Product Summary
The STA013 is a MPEG 2.5 Layer III audio decoder. The STA013 is a fully integrated high flexibility MPEG Layer III Audio Decoder, capable of decoding Layer III compressed elementary streams, as specified in MPEG 1 and MPEG 2 ISO standards. The device decodes also elementary streams compressed by using low sampling rates, as specified by MPEG 2.5. This interface is software programmable to adapt the STA013 digital output to the most common DACs architectures used on the market. Its applications include PC sound cards, multimedia players.
Parametrics
STA013 absolute maximum ratings: (1)power supply: -0.3 to 4V; (2)voltage on input pins: -0.3 to VDD+0.3V; (3)voltage on output pins: -0.3 to VDD+0.3V; (4)Storage temperature: -40 to 150℃; (5)operative ambient temp: -40 to 85℃; (6)operating junction temperature: -40 to 125℃.
Features
STA013 features: (1)digital volume control; (2)digital bass&treble control; (3)serial bitsteream input interface; (4)anciliary data extraction via I2C interface; (5)low power consumption; (6)CRC check and synchronisation error detection with software indicators.
Diagrams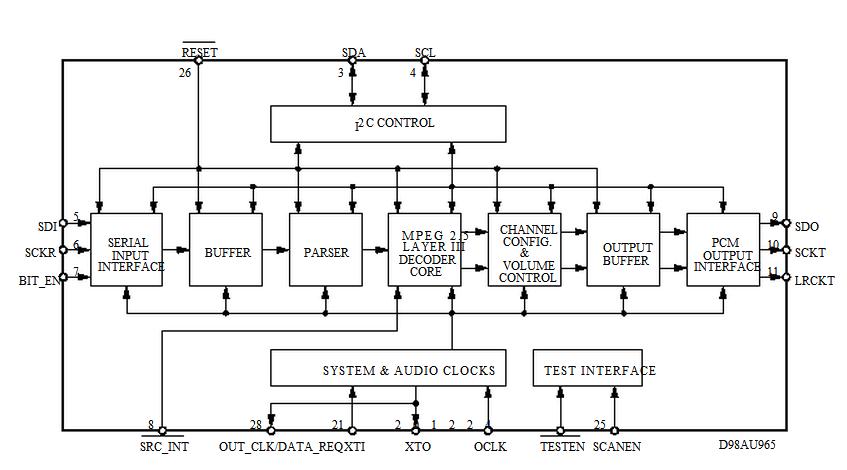 Image
Part No
Mfg
Description
Pricing
(USD)
Quantity

STA013

Other



Data Sheet

Negotiable

STA013$

STMicroelectronics

Audio DSPs MPEG Audio Decoder

Data Sheet



| | |
| --- | --- |
| 0-554: | $4.39 |
| 554-1000: | $4.34 |


STA013$013TR

STMicroelectronics

Audio DSPs MPEG Audio Decoder

Data Sheet



| | |
| --- | --- |
| 0-672: | $4.91 |
| 672-1000: | $4.39 |


STA013B$

STMicroelectronics

Audio DSPs MPEG Audio Decoder

Data Sheet

Negotiable

STA013B$13TR

STMicroelectronics

Audio DSPs MPEG Audio Decoder

Data Sheet

Negotiable

STA013B

Other



Data Sheet

Negotiable

STA013EVB

STMicroelectronics

Audio IC Development Tools Eval Brd for STA013$

Data Sheet

Negotiable

STA013T$

STMicroelectronics

Audio DSPs MPEG Audio Decoder

Data Sheet



| | |
| --- | --- |
| 0-759: | $4.39 |
| 759-1000: | $4.34 |