Product Summary
The MPZ2012S102AT000 is a ferrite bead. Its applications include noise elimination of DC power supply lines for USB interface circuitry, personal computers, electronic games, hard disk drives, and other general electronic equipment. Also effective as a noise countermeasure in signal lines.
Parametrics
MPZ2012S102AT000 absolute maximum ratings: (1)Impedance: 450Ω; (2)DC resistance: 0.1Ω; (3)rated current: 2A.
Features
MPZ2012S102AT000 features: (1)The MPZ series are multilayer chip impeders for power supply line applications; (2)High miniaturized, these parts nonetheless exhibit low DC resistance and high current handling capability; (3)The products contain no lead and also support lead-free soldering.
Diagrams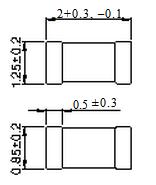 MPZ2012S101A

TDK

EMI Filter Beads, Chokes & Arrays Ferrite Chip Beads

Data Sheet



| | |
| --- | --- |
| 0-1: | $0.04 |
| 1-50: | $0.04 |
| 50-100: | $0.03 |
| 100-500: | $0.02 |


MPZ2012S601A

TDK

EMI Filter Beads, Chokes & Arrays Ferrite Chip Beads

Data Sheet



| | |
| --- | --- |
| 0-1: | $0.04 |
| 1-50: | $0.04 |
| 50-100: | $0.03 |
| 100-500: | $0.02 |


MPZ2012S331A

TDK

EMI Filter Beads, Chokes & Arrays Ferrite Chip Beads

Data Sheet



| | |
| --- | --- |
| 0-1: | $0.04 |
| 1-50: | $0.04 |
| 50-100: | $0.03 |
| 100-500: | $0.02 |


MPZ2012S300A

TDK

EMI Filter Beads, Chokes & Arrays Ferrite Chip Beads

Data Sheet



| | |
| --- | --- |
| 0-1: | $0.04 |
| 1-50: | $0.04 |
| 50-100: | $0.03 |
| 100-500: | $0.03 |


MPZ2012S221A

TDK

EMI Filter Beads, Chokes & Arrays Ferrite Chip Beads

Data Sheet



| | |
| --- | --- |
| 0-1: | $0.04 |
| 1-50: | $0.04 |
| 50-100: | $0.03 |
| 100-500: | $0.02 |


MPZ2012S102A

TDK

EMI Filter Beads, Chokes & Arrays 0805 1000ohms 100MHz Rdc 0.15ohms 1.5A

Data Sheet



| | |
| --- | --- |
| 0-1: | $0.05 |
| 1-50: | $0.04 |
| 50-100: | $0.03 |
| 100-500: | $0.02 |